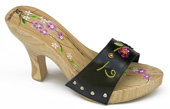 larger image

Cha cha
Each pair of our shoes are hand painted, no two pair are identical. Likewise, the shoes you order will look similar but will not be exactly like the pair in the photo.
Hand painted
Beautifuly grained wood
Polished and laquered to a brilliant natural shine

faqs

---
Being hand painted
I realize no two products are exactly alike, but how similar are the web photos to my order?
Could you tell me more about the shoe sizes?